UKH folded in 2012. The official website has now been dismantled, but here is the story of the band, as we wrote it.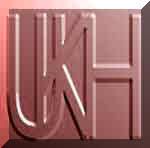 U.K.Heights officially began in 1991, when Nige and Mike were asked to play percussion and keyboards on a track for "In-ter-Dance", a rave-running organisation operating out of Stern's Nightclub on the south coast (U.K.). In return we were given the B side of the 12" white label to do with as we pleased. This became the instrumental version of "Immaculate"- a vocal version of which later appeared on our first album "So Far". In fact, the musical origins of the band go much further back, to when Nige and Mike were at school together in Bournemouth in the late seventies, being given free downtime by the local studio. We couldn't have been luckier- that studio was "Arny's Shack", the creation of our first musical guru and continuing inspiration, Tony Arnold.
The band that eventually grew from these beginnings was "The Cast", which, while signed to managers Justin de Villeneuve and Kenney Jones, released the album "In Order of Appearance". This coincided, alas, with the break-up of the band due to personal differences in 1982....... disillusioned, Nige retreated to the woods in Hampshire, while Mike, via a brief musical adventure in Holland and Japan, moved to London and wrote, wrote, wrote..
Around this time Mike met Patrick Williams, then working at "Hit and Run", who provided material and spiritual support for a couple of writing years. This was also when Mike met Claire, a relationship that was yet to become a musical one... they moved back to Hampshire, where, inevitably, Nige (who was still in the woods) and Mike returned to their musical meanderings. They met Mensa and Simon Scutt, of the afore-mentioned "In-ter-dance", and completed the "Immaculate" sessions, with Claire, now married to Mike, providing some of the vocals.
By this time Patrick W had left "Hit and Run" to work for himself, and had begun working with Geoff Downes and Doug Hopkins of "Czar Records" the label attached to Advision Studios who had relocated to Brighton. Through Patrick, they had heard what the three of us were then doing, and a recording project was embarked upon. Once again, we were to learn some hard lessons… within a few weeks, Patrick and Czar parted company, and we were left with a sore Patrick, who had after all introduced us to the situation, on one side, and Czar on the other, who wanted to complete the project. We felt we could not now do so. The only way forward was to do it ourselves.
Mike had for some time now been building up an arsenal of recording gear. This was added to with the help of Patrons and TV/Media projects, and we began work. The first U.K.Heights release was a double A-sided cassette of "Immaculate", by now a song, and "Hopetown". This provided us with the momentum and experience we needed to embark on the long two years that it took us to make "So Far".
It was while we were mixing that album that we heard our local radio station's late-night ambient show "The Ambient End". Aurally inspired, we decided to do an ambient remix of one of the tracks we were mixing for the album- "Love and Intent". We sent it to said radio station, and they played it on the show, expressing a desire for more. We obliged, and over the next year or so came up with four more pieces, all of which were aired on the show. We realized that we had, inadvertently, completed another album, and took the Dats into Dubmaster Studios to edit the tracks into what eventually became our second album "Ambients".
In 1996 Mike and Claire came up with another creation - they had a son, William… UKH affairs took a back seat for a while, as tending to the newborn became a priority. The three of us were also gigging at this time with Portsmouth based band "Ltd Company" - Nigel on drums, Mike playing guitar and keyboards, and Claire singing harmony to singer Clare Begley's lead vocals; in 1998, we won the Radio Victory Song Competition with "River" - a ballad written by Mike. A further UKH ambient track "Mackeral Skies" was included in the second "Ambient Northern Lights" compilation from Just Create Records, and at the end of the millennium we collaborated with singer Kerry Schultz on a further (club) re-working of "Love and Intent". In Autumn 2001, we released a net/mp3 EP of 3 versions/mixes of "Mackeral Skies", which, together with "My Magdalene" from "So Far", reached the top 10 of the MP3.com 'electronica' and 'adult alternative' charts in December. In 2002, 7 years after starting it, we finally released the full re-edited version of "Ambients".
In 2000 we had decided to make another album. In between the increasing commitments that the three of us had to juggle to make a living, we managed it, and nearly five years later, in December 2004, the final master, which we were proud to have made entirely ourselves ("So Far" and "Ambients" were both recorded and mixed by us, but mastered - the last bit - at other studios) was delivered to the CD manufacturers.
Less than three weeks later, as the album was being manufactured, and one month before it was due to be released, Nigel fell ill and was admitted to hospital in Portsmouth. After a mercifully short end to what had been a long period of decline, he died at 3.20 PM on 27th January 2005, aged 43. He will leave a large gap in the lives of those close to him - Nigel's drumming was unique, and was the heartbeat of the music we made, and "Welcome to Life", ironic as it sounds, will obviously be our last album together. Mike and Claire will miss the jamming and the laughs.
When the three of us first wrote this band history, the paragraph that Nige had the most to contribute to was the last, which follows.
"Whilst we must make 'our' music, we are aware of, and value greatly, the assistance and inspiration we have received from others up to this point, which has been given and accepted with a complete understanding of our desire to retain our independence from the 'Record Company Requirements' so often expected from bands. Our aim is to carry on, and with friends and good allies our intent is to realize a dream that is…
U.K.Heights."

google-site-verification: googlefbac52684d03f74a.html
Digitiphony 9 released 7th January 2019
Digitiphony 10
'A Quantum Mass' released 3rd January 2021
Culmination from Digitiphony 3